Johannesburg – East Rand – Electronic Waste – Component Recycling – E-Waste Recycling
E-Waste
E-waste or electronic waste, We buy all old electronic equipment. PC screens, towers, printers, printer cartridges, cables, modems, laptops, tablets, pc boards, cell phones, appliances TV's, flat screens, old land lines, calculators, power supplies, circuit breakers, DVD and VHS machines  ….basically any and all PC and electrical  related products.
All products and all of their components are recycled…no harm to the environment. The safe way to dispose of your Electronic waste.
Products are graded into different categories and prices paid accordingly.
Electronic Waste Grades
E-WASTE 1
PC Towers, Laptops, Tablets, Cell phones, Flat Screen TV's, Flat Screen PC's
E-WASTE 2
DVD players, Calculators, Power Supply's
E-WASTE 3
Penlight Batteries, Plug's, Printers, Old Tube Screen TV's, Old Screen PC's
E-WASTE 4
Landline phones, PC Mouse, Keyboard, Blank Board, Circuit Breakers, Printer Cartridges
We buy PC Boards according to a 3 Grade Structure, click to view.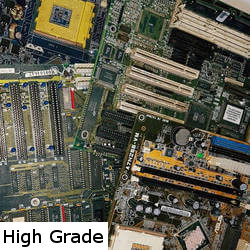 The processes of disassembling and incorrectly dumping of electronic waste can lead to a number of environmental catastrophes. Liquid and atmospheric releases of electronic waste end up in bodies of water, groundwater, soil, and air. Proper recycling of electronics is important for the environment.
Electrical Component Recycling – Electronic Waste – Electronic Waste Recycling – Computer Recycling – Component Recycling